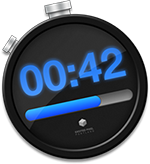 I keep hearing about research that shows how your life will be dramatically shorter and more problematic if you spend too much of it sitting in front of a computer.
Some of this, no doubt, is encouraged by the manufacturers of the standing desks, and even treadmill desks, which are to the young entrepreneurs of today what the Aeron chair was to the dot-com startups of yesteryear.
But whether or not you believe the more worrying claims of reduced life expectancy, I think we can agree that it's not a bad idea to get up and stretch your legs from time to time. Maybe have a bottle of chilled water, if you're from California, or a nice cup of tea, if you're British.
So I've been rather taken with a little Mac app called BreakTime, which will pop up and nag you when you've been working at your computer for too long at a stretch. You can choose the time periods: mine requires me to have a four-minute break after 56 minutes, for example, and you have some control over how persistent it will be: are you allowed to dismiss it before the four minutes are up? It also makes sensible decisions if you leave the machine of your own accord first, and resets the timer when you return.
I find, to my surprise, that I really like it: I've put it on all my machines, and what it highlights is just how difficult it is to keep track of time myself. I'm amazed how quickly an hour of sitting still can fly by when I'm deep in concentration. Even if I do little more than stand up and tidy some things off my desk, I'm sure it's a good discipline.
There are several other similar utilities out there, but BreakTime works well for me. Recommended.
Update: Tim Green, on Facebook, pointed out Workrave, which does something similar for Windows and Linux. I'm linking to it here because, of course, you can't search Facebook – even your own history (something I still find incomprehensible).