Some people may consider my fondness for home automation to be a frivolous pursuit.
Well, let me tell you this…
Tonight, as I left the excellent Chinese take-away a few miles from my house, accompanied by this evening's dinner, I was able to turn on the hotplate in the kitchen at home, so that by the time we got back, the plates were nice and warm and ready to hit the table.
Let nobody say humanity is not reaping the benefits of scientific progress…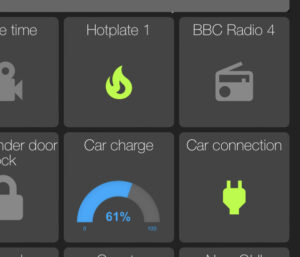 A small section of the touch control panel in my kitchen.