My friend Jon Crowcroft pointed out that a UK government website says their watchdog is going to take a closer look at algorithms, how websites and apps use them, and how they impact daily life.
The underlying motivation is no doubt a fine one, but it's unfortunate reporting: the investigation of 'algorithms' reminds me a bit of those people who are suspicious of 'chemicals'.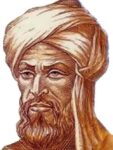 'Algorithm', my OED tells me, comes from the Middle English 'algorism', which in turn is named after the 8th/9th-century Arabic mathematician Muhammad ibn Musa al-Khwarizmi — what a cool name! — who, amongst other achievements, invented algebra.
So it's high time the government got around to investigating these algorithm things.