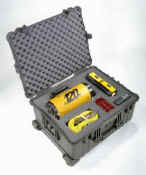 Like John, I've been wondering how I'm going to get all my fragile and valuable stuff home – most notably my laptop – when I'm not allowed any hand luggage.
So, yesterday, I treated myself to a Pelican case.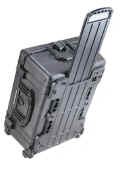 I've used Pelican cases before for transporting demo kit, including 17″ LCDs, around the world, and they're fabulous – it's almost the only container I'd really trust to survive airport baggage handlers. I've always wanted an excuse to buy one, and now I can also use it to bring back some pottery that Rose bought while over here.
Whether it'll save laptops and vases from the careless unpacking and repacking of airport security personnel, however, is another question entirely…