It's sometimes said that Americans have no sense of irony. Rose, who is one, and who does, points out that this is hardly a fair accusation to level against the country that created Woody Allen, or Frasier. I think she's right.
But, as part of life's rich tapestry, there are some people over here who will hang signs like this in fabric stores: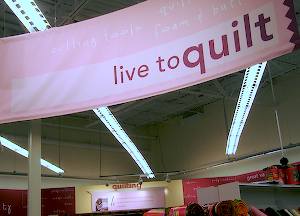 What bothers me is not just that someone should actually display such a thing. It's the number of people who must have been involved in its design, creation, printing, delivery, hanging… Did no one, in this whole process, ever think, "You can't be serious! Come on, this is ridiculous! Live to quilt?" At which point everybody should have burst out laughing, admitted it was a joke, and sent it away.
I shouldn't be too cynical, though. Sometimes these in-store displays can really reach out and help those in distress. I'm sure that many of us have lain awake at night, tossing and turning, with the following question spinnning endlessly through our minds: