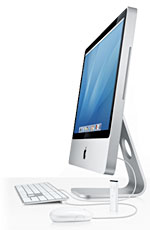 Announced today – new and very pretty iMacs, an update to iLife, and iWork now has a spreadsheet application and many other improvements.
An iWork update will certainly make me get my credit card out. I've become a great fan of Keynote and Pages, and the fact that Pages now has a 'track changes' feature means that most of my reasons for starting up Word have now vanished. Hurrah!
Have a look at some of the iWork demo videos on Apple's site. Looks very pretty. My family pack is already on order…
Oh, and the Mac Mini is now a Core 2 Duo machine.