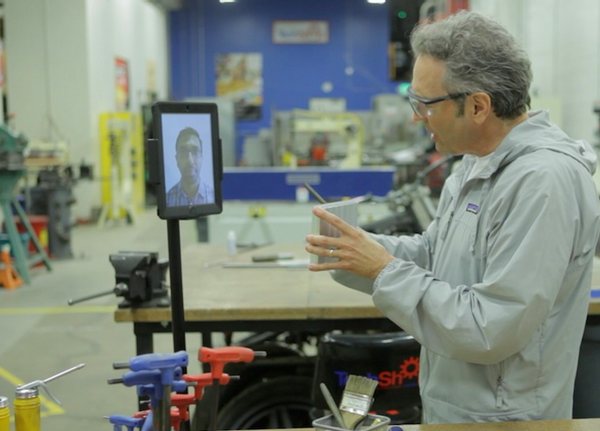 I've always liked the idea of a telepresence robot — a video-conferencing device that you can move around a remote location to give you a more tangible presence there — but suspected the number of really practical uses of these very expensive devices was somewhat limited.
So I was struck by the great story of Grady Hofmann featured in the latest BBC Click episode. Grady, an eight-year-old, was able to chat to his siblings in their bedroom, go to his school, and take his place at the family dinner table, all while he was confined to a hospital bed for 2 months during a bone-marrow transplant. OK, I thought – this stuff is worthwhile after all!
Double Robotics are creating a neat low-cost telepresence robot which uses an iPad as the face, eyes, ears and speaker, and Segway-type mobility. All for under $2000 (plus iPad) which means these are starting to be affordable. (The whole device would cost about the same as 4 months' rail commute from Cambridge to London.)
There are two issues I think these devices still need to tackle, though. The first is that they need the ability to connect themselves to a charging device, to reduce their dependence on other people. The Roomba can do this, so it should be manageable.
But the second is something that may be rather more tricky. I know this because it took the Daleks fifty years to come up with a solution.