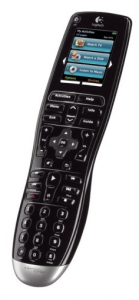 Here's a quick and simple recommendation. About three years ago I decided I needed a new all-in-one remote control, since my (splendid and extravagant) old Marantz RC2000 mk II was struggling to keep up with the latest innovations in infrared.
So, after some pondering, I looked at the Logitech Harmony series – which I'd first seen at a CES show long ago, before they were even part of Logitech. The basic idea is that you use a special website and utility to put in details of the hardware you've got – which models of TV, Amp, DVD, etc – and how they're connected together. It asks questions like "When you want to turn up the volume on the TV, do you use the TV or the amplifier?" Then you plug your remote in to a USB port and it gets programmed with all the appropriate codes and configuration. I went for a middle-of-the-range one, the Harmony One, and started thinking of all the ways I'd be able to customise it to make it do what I wanted.
And… I didn't need to. After I'd set it up with something pretty close to the default configuration, it just did what I wanted out of the box. And has done so ever since. I haven't gone back and fiddled with it once, which, knowing my propensity for such activities, is quite a recommendation.