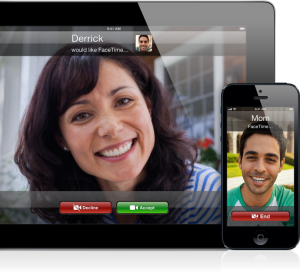 It's three years since Steve Jobs announced FaceTime, Apple's video chat technology. It's a fine system, and yet I realise that I can count the number of times I've used it on the fingers of one hand.
This is chiefly because Skype does rather more, and does it on non-Apple devices. I have dozens of Skype contacts, and can easily see which of them are online and likely to be disturbable at any time. With FaceTime, I haven't yet even found a list showing which of my friends have it.
However, the thing Skype doesn't particularly give you is a good mobile experience. I've used it on my phone a great deal when abroad; with hotel wifi it can save a fortune in roaming charges. But, on iOS at least, you want to turn it off as soon as you're done with it and not leave it running in the background, or your battery won't last beyond your siesta. So it's a way for you to contact other people, but not for them to contact you. FaceTime should handle this much better.
With the release of IOS 7, too, FaceTime gains an audio-only option, making it more of a direct Skype competitor (something Google Hangouts also need to offer, by the way). And as Skype's user interface gets progressively worse with each release (something that can't be blamed solely on their new owners, Microsoft) and since it's no longer the secure service it once was (something which can), I think I may be giving FaceTime more of a trial in the future.