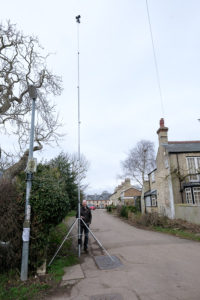 Many of my friends have expressed surprise that I don't have a drone yet. I'm rather surprised myself, actually – I'm very tempted by the DJI Mavic Pro. So far, however, I've resisted. Getting a licence to fly them anywhere close to humanity, or to use them for commercial work, takes a little while and costs rather more than the device itself. I may yet succumb to temptation, though…
I met another man who doesn't have one today. A very nice chap taking photos of a nearby house that's about to go on the market. We chatted for a while.
I presumed that estate agents used drones as matter of course now for their aerial shots, but he said the hassle of dealing with the CAA was still too much trouble and the insurance for commercial use ran to about £2K/year. So he has a tall pole with an SLR on it and a remotely-controlled pan-tilt-zoom head. A very nice toy, and I told him so.
"It's ridiculous", he said with a smile. "I'd be done in five minutes if I had a drone…"