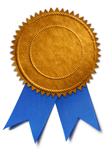 Ten years ago, as a joke, I created a website called 'Awardify'. The front page explained its purpose:
Awardify is the internet's premier award-granting service!
Have you ever looked at marketing materials for a product or service and seen them described as 'award-winning'?
Have you ever wondered which award they won, and how recently, and whether it has any value at all?
Of course not! You probably thought, "Wow! I wish my company/product/service was award-winning too!"
Well, now you need look no further. Awardify's simple and convenient service can grant you the award of your choice, so that you too can use that catchy and effective phrase on your own marketing materials, and be the envy of your competitors!
Sure enough, you could fill in your details and it would generate a nice printable award for you. You could pick from a selection of pre-defined titles — "The International Kitchen Excellence Award" was one example, I think — or you could choose your own, and you could then decide who should award it to you from a list of impressive-sounding organisations, all of which were trading names of Awardify.com (which didn't actually exist as legal entity).
After a few years, I decided this spoof had run its course and it wasn't worth paying for the awardify.com domain any longer, or keeping the underlying software updated with security patches, so I let it go. You can see a snapshot of the Awardify front page on the Internet Archive, but otherwise it was consigned to the big wastebin of internet history, the domain was bought by somebody else, and there the story would have ended… until…
Well, blow me down, if somebody hasn't revived the idea!
Yes, I discovered today that you can now go to Awardify Now and get yourself an award, and what's more, they're actually charging money for them! Which means they might hang around a bit longer than my site did. But they can't be serious, surely?
So the question now arises, who is the most foolish? The person taken in by fake awards? The person who pays a website to generate fake awards? Or the person who has an idea for a fake-award-generating-business and completely fails to capitalise on it?