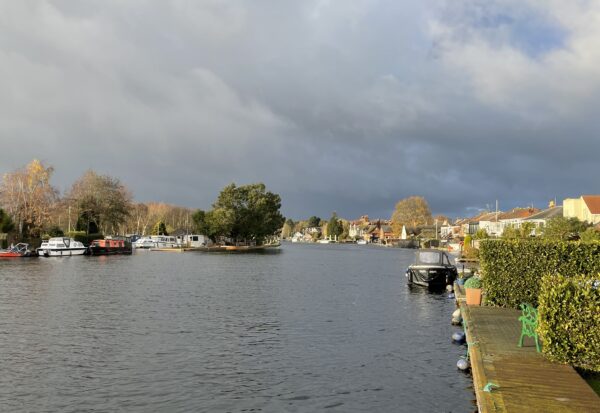 Sunshine with dark clouds over Horning
Yesterday, as we headed for a day trip to the Norfolk Broads, we stopped at the Elveden Estate for breakfast in their cafe. We've been there several times in the past; it's a nice spot, roughly half-way, and has useful things within walking distance, like woodland trails for dog exercise, and Tesla superchargers.
On this occasion, however, we found considerably more people than we would expect for that time on a Sunday morning. Marshalls were guiding cautious drivers along icy roads and into large snow-covered temporary car parks. We started to be concerned about the competition for the sausages.
But it turned out that we had stumbled on their pre-Christmas weekend activities; the normal courtyard car park was given over to cheery live music, Christmas trees for sale, Santa in a grotto somewhere and staff in elf costumes. Normally I would steer clear of such things, but this was, I have to admit, quite nicely done and it must have been great fun for children to walk there through a light sprinkling of snow. Your Christmas tree and other purchases could, in exchange for a small donation to a charity, be transported back to the car park by one of the big friendly Newfoundland dogs padding to and fro harnessed to small carts.
In the middle of all this was a small enclosure containing a couple of reindeer and their appropriately-dressed keeper. A little child, next to me, looked at the fencing that surrounded them, which didn't have a gate. She looked a bit nervous, but summoned up her courage to ask a question of the keeper. "How do you get out?"
The keeper looked around her, smiled, and lent forward with a wink and a conspiratorial whisper.
"We can't", she said. "We have to fly out."