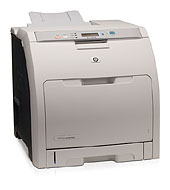 In this week's Economist, HP have a full-page ad – which can't be cheap – extolling one particular virtue of their CP3505 printer. It's called Colour Access Control.
This lets you set up lists of people who are entitled to print in colour. The others only get black and white.
Now, I'm sure printing costs are an issue for some businesses, but I can't help being somewhat bemused by this. I have visions of people wasting large amounts of time trying to find someone who can print a document for them. Of secretaries noticing that you can actually buy a colour laser printer for less than the cost of a set of toner refills, and 'accidentally' ordering the wrong thing. But mostly of annual performance reviews: "Now, Fred, you've done some outstanding work this year. I'm sorry that we can't give you a pay rise, but we will put you on the Colour Access List".