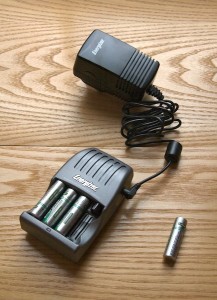 I've just bought a new battery charger, which recharges standard AAs or AAAs in 15 minutes. You may be able to see the grill behind the batteries – for ventilation. Yes, this is a charger with a 60W power supply and a built-in fan, which cools the batteries as they charge.
It certainly seems to work as advertised, but does anyone know if there are implications, good or bad, for the life of your batteries if you charge them this way?
I bought it here, by the way.