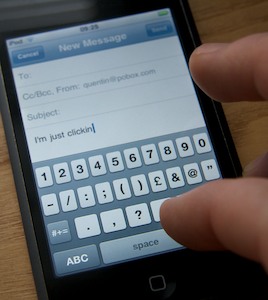 My friend Ray Gordon recently gave me one of the most useful iTouch/iPhone hints I've had in some time. If you already know this, it is blindingly obvious, but if you don't, you definitely want to!
On the iPhone keyboard, you can tap the shift key to switch to caps, and the symbol/numeric key to switch to the layout that includes commas, hypens, numbers etc. But did you know that you can touch those keys and then slide your finger to the character you want? When you release, the keyboard reverts back to the mode it was in before. So if you want, say, to insert a hyphen or an apostrophe in the middle of a word, you need just one click-and-slide, rather than three clicks.
Try it and you'll never look back!