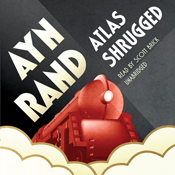 Ayn Rand's Atlas Shrugged is one of those books I've been meaning to read for years. Its Wikipedia page says that, "according to a 1991 survey by the Library of Congress and the Book of the Month Club, Atlas Shrugged was second to the Bible as the book that made the most difference in American readers' lives".
I'm now reading it, or, more precisely, listening to it. Since I seem to have less and less time for reading, I've become something of a fan of audiobooks, and this version is magnificently read by Scott Brick. Unfortunately, it's only available in the US Audible.com store, and not on Audible.co.uk. I have an account on both, which is foolish, but I can never quite decide which one to give up.
Having never actually seen the book in its physical form, though, I hadn't gathered just what a massive tome it is. As I saw that I was approaching the end of the 8-hour audio file, it took me a moment to realise that this was just the first section. The first of eight. Yes, folks, this unabridged narration is 63 hours long! And you can get it for one Audible credit, which would be exceedingly good value even if it wasn't so nicely produced.
I've only listened to the first 13% or so, but so far it comes highly recommended.
If stories of dystopian industrialism are not your thing, or you think you can't quite stomach 63 hours of anything, let me recommend another really excellent book: Robert Kurson's Shadow Divers, which is available in both the UK and the US. Another great way to make better and more enjoyable use of that time you spend shaving, driving, or washing up…