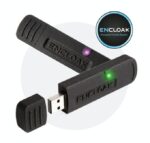 Some very smart friends of mine have created a rather neat device called EnCloak. It looks and acts just like a normal USB drive, but it can encrypt and decrypt files in cunning ways as you save and retrieve them.
"So what?", you may say, "There are lots of encrypted storage devices on the market."
Yes, but this one has some particularly smart attributes, most notably that the hardware just uses standard USB file storage operations, so you don't need any software or drivers on the machine to make use of it. And if you drop it in the car park and somebody picks it up and plugs it in, they'll just see a small standard flash drive and won't even know there are also secret files on it without having the appropriate credentials, let alone be able to read them.
Need to take those super-secret exam questions to the publishing company without wanting to trust any intervening networks? Or keep a backup copy of the things you normally store in your password manager, which you could get at anywhere in future without access to that bit of software? This might be the thing for you.
There are lots of other ways to get encrypted data from place to place, so you may not need this. But hey, the printing company may not know about your GPG keys, and the examination board may not want to install your decryption software, and you know the Feds will get at anything you have in the cloud. If they don't, Facebook will. Besides, gadgets are fun!
Anyway, they've been working on this for quite a while; and I saw an early prototype over two years ago, so I can vouch that it worked even back then. Now they've just launched a Kickstarter project to fund the initial production run, so you can now sign up for one — either for yourself, or to get your Christmas presents sorted out nice and early for your geeky friends!