Just to prove it works, here's a screenshot of Ubuntu running in a VM window on my Intel Mac: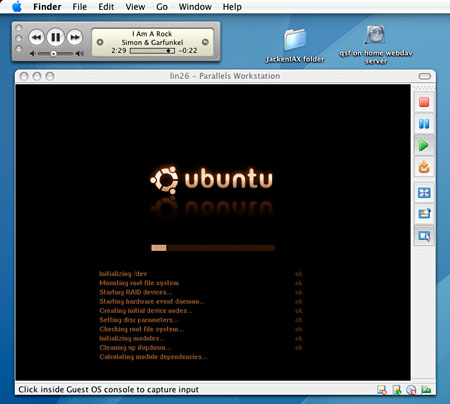 This is using Parallels Workstation, which is still definitely beta, but shows lots of promise. I hope they make their money quickly, though, because it wouldn't surprise me if Apple included this functionality in the next release of their OS.
There are a benefits of this over BootCamp besides not having to reboot. One is that the disk image is just a file, and you can clone it and move it around – so you can run your virtual machine from an external hard drive, for example. Also, it can be substantially smaller – you have to set aside 10G or so for BootCamp, while my 4GB 'disk' for the virtual Ubuntu installation is actually less than 3GB on the disk – presumably because the disk isn't full and it does clever things with compressing sparse images.
I did a slightly more interesting experiment with this, too – see the Ndiyo blog for more info.