In the UK, every vehicle has to display a tax disc which generally needs to be renewed once a year.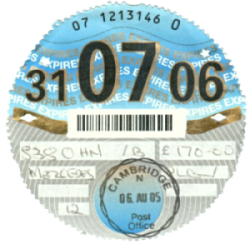 This year, for the first time, I could pay for the replacement online, and it was posted to me. Very convenient. The details are also printed rather than handwritten, and are rather more legible than last year's one!
But in the past you had to go to the post office taking both evidence of your insurance and your vehicle's MOT (road-worthiness) certificate, which would be checked by the cashier before you could get the disc. In theory, then, the police or the traffic wardens could look at a car and tell that it had appropriate insurance and mechanical condition.
With the online process, you just have to tick boxes affirming that you have these. No other human is involved. Somehow this doesn't make me think that our roads will become safer…
Actually, if I remember correctly, the MOT test database is checked as part of the process, so that bit is covered. But what about the insurance companies? Is there a central service that can be checked for that too? I think uninsured drivers are more of a problem than unreliable cars…