It's always a bit embarrassing to discover that a friend has been involved in a really good initiative and you didn't know about it until months later. I was even invited to the launch, but was away at the time.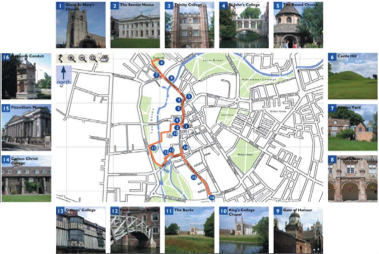 So I've just discovered (sorry, Vicky!) the Shape Walks guides to Cambridge, created by Stride Design and Shape East, and in particular the audio guides, which you can download into your iPod or phone and then stroll (or stride) around the town with a very nicely-produced commentary on your surroundings – especially if you're interested in architecture.
If you're feeling a bit less energetic, you can click on their online map and hear the tour commentary through your browser while sitting at home in an armchair.
I went looking to see if Stride had done this for any other towns and found just one more – amazingly, for me, it's for Ware, in Hertfordshire, where I grew up, and which I now discover I knew very little about despite living there for 15 years.
These are very good; every town council or tourist information office should commission one.
As a slight variation on this theme, a couple of winters ago I found another good way to explore a new place…