I remember in the early days of blogging, I was trying to persuade a good friend of mine that he would be capable of writing a really interesting blog, and his response was something along the lines of 'Too busy living it to blog it!' I wasn't quite sure what to think of that. Was it an enviable, or pitiable, state?
My posts on Status-Q (now approaching its 21st birthday) have always been somewhat bursty and sporadic, and I notice that it's nearly a month since my last one. I sometimes feel inferior to friends who produce impressive output every single week or even day (though I suppose many of them are not so much writing new content themselves as linking to valuable pieces elsewhere, which is something I generally tend to do a bit less because they do it much better than me!)
So blogging for me is something that generally happens when I have enough interesting stuff going on to write about, but not so much that there's no time to write! My long-suffering readers just put up with the unpredictability. And this last month has been surprisingly busy, both with work and play, but a lot of the latter… so here are a few quick phone snaps and bits of news, to catch up…
Big boats…
Since the last post, Rose and I went on an RYA sailing course – the first for her and the second for me – and spent a few days living aboard a very fine 35ft boat. Here's Rose at the helm, heading out to sea: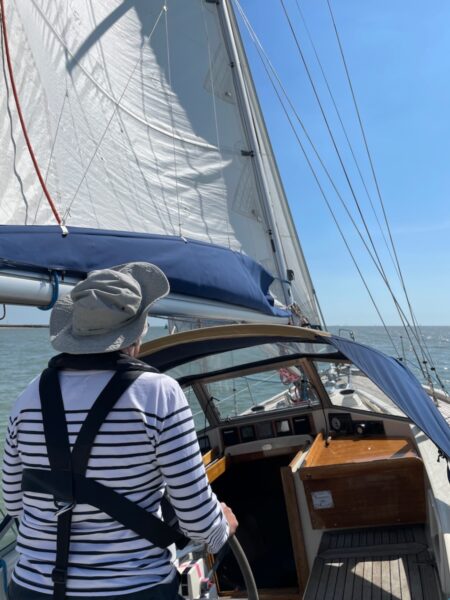 and we also enjoyed some night sailing on the River Stour: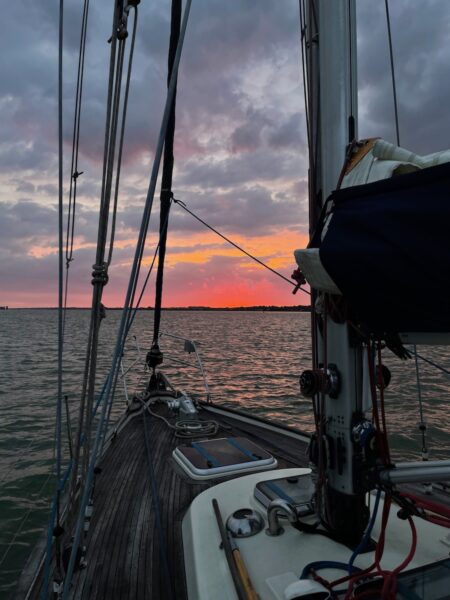 And little boats…
At the other extreme we've been exploring the North Norfolk coast and its challenging tidal currents in our little inflatable boat with its electric outboard, getting up very early to set out with enough water from Morston Quay…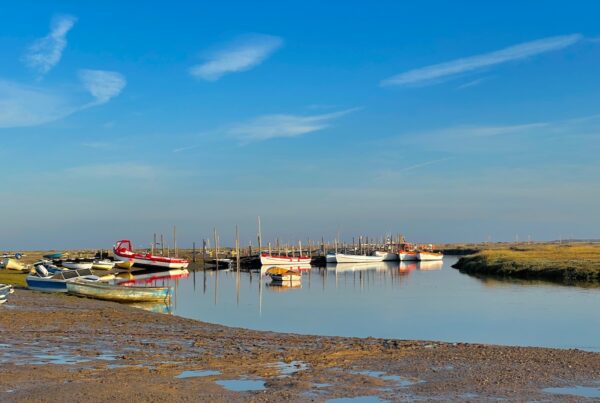 :
Popping out to see the seals on Blakeney Point: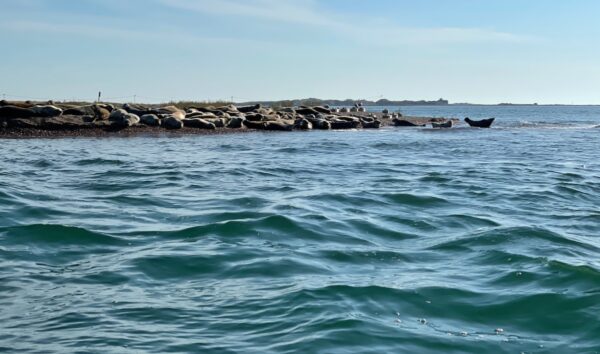 before heading back inland towards Blakeney…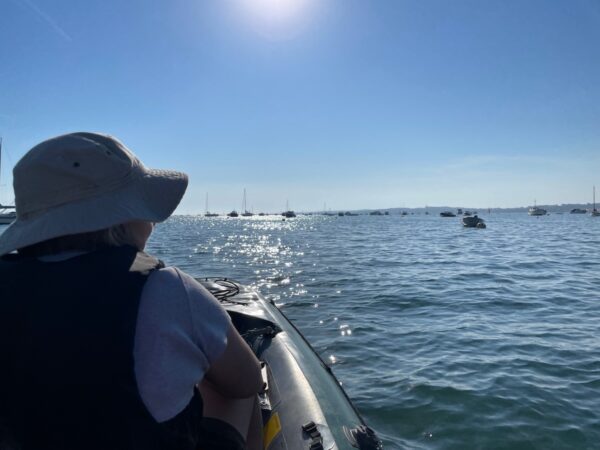 with the help of local signposts: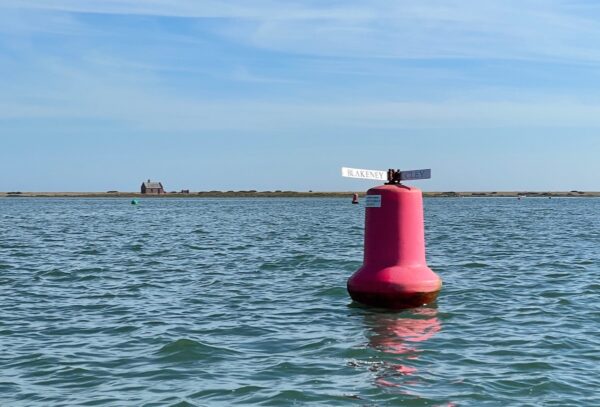 …and passing some of the pleasing local craft on the way.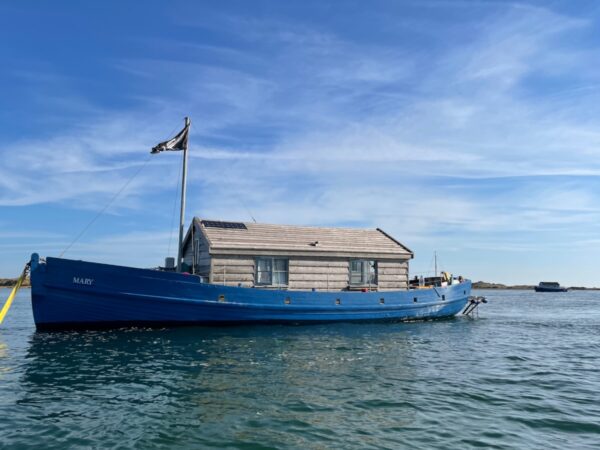 Blakeney high street, which we had wandered down to a favourite restaurant the previous night…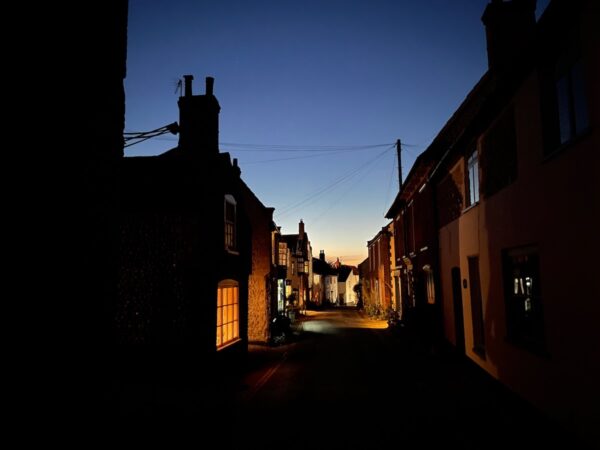 was now our destination port…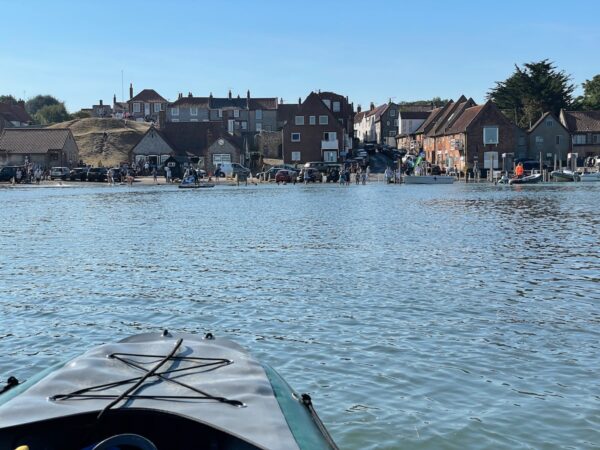 and such is the height of the spring tide down at the quay that we could just sail into the carpark and tie up to a bollard there.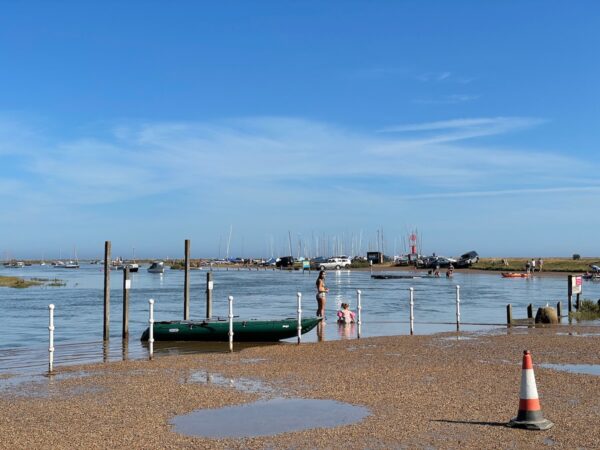 The quay soon became crowded with people enjoying jumping in to the warm, voluminous and fast-flowing river, which normally meanders much more sedately through substantial banks of mud and sand.
We walked back along the coast path to Morston, picked up the car, and brought it back to Blakeney, had a coffee and sausage roll for breakfast at the nearby cafe. After that, the rapidly-drying car park was once again full of cars, and we could roll up the boat and take it away.
Tesla travel
Of course, if you're staying in a campsite, but your car is full of spaniels, boats and outboards, then transporting a tent can be a challenge. I do have a roof rack I can put on the Tesla, but I wasn't too keen on attaching a heavy tent to my glass roof, nor on the likely effects of the resulting aerodynamics on my range.
Then I remembered that I had once bought a custom-made bag to go on our bike-rack when I was using it with our old campervan. It turned out to be a great way to transport the tent.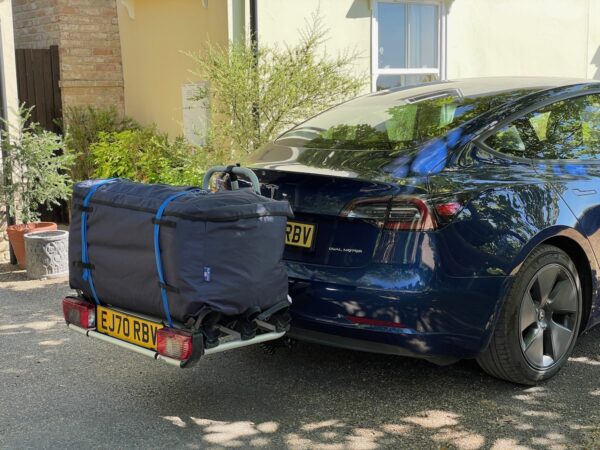 When we got to the campsite we removed it and had a normal (albeit boat-filled) car for the rest of the weekend. As always when attaching things to my towbar, though, I did need to adopt a slightly unusual position when using a supercharger on the way home!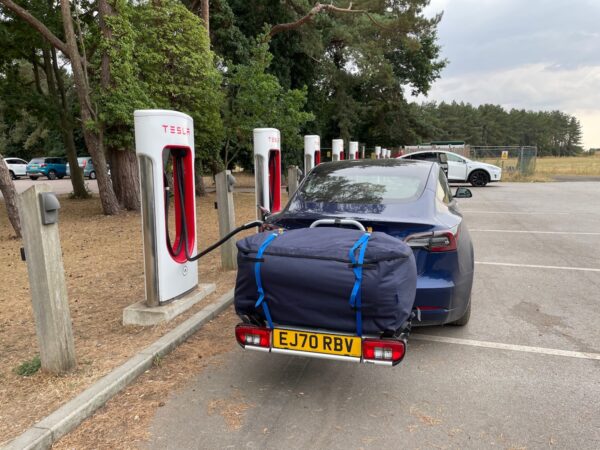 An old design with new opportunities?
Next to us in the campsite was a rather interesting folding caravan. We made friends with the owner and discovered that it was a Carousel Slimline, a jolly clever design originating in the 70s and produced, in Norfolk, until just a few years ago. They look like this: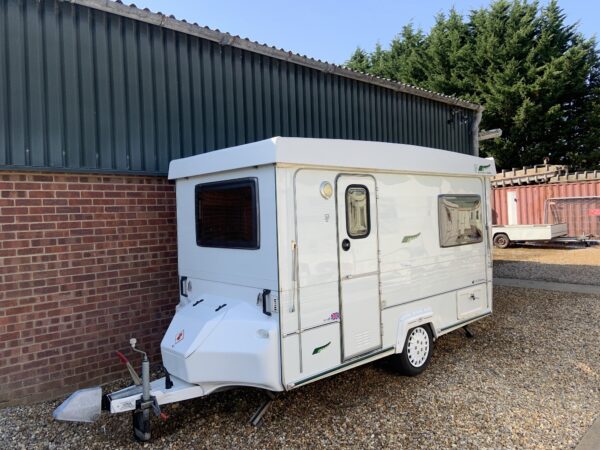 The slimline version of the Gobur Carousel.
Now, if you're thinking that it looks a bit, well, boxy, remember… that's what you really want when you're living inside it. Houses are boxy too. Flat vertical walls and high ceilings are desirable, but you normally have to compromise them because of things like aerodynamics when you're towing behind a car at high speeds. Not with this.
We were rather impressed, and since the company was just a few miles from the campsite, we went and had a look. They even let me try towing one on the Tesla… which worked very well.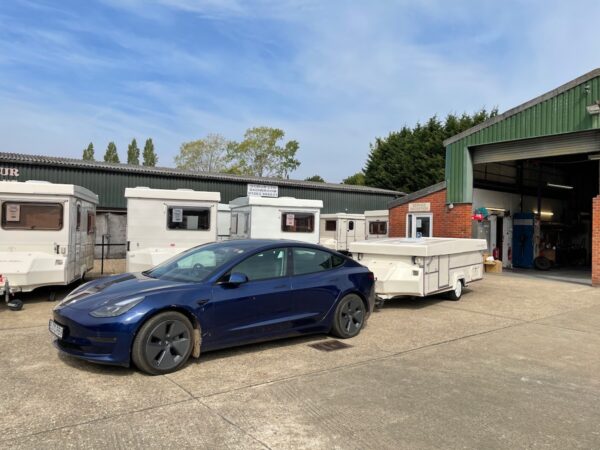 For those interested, I got about 3 miles per kWh on my 18-mile test, as compared to about 4 miles/kWh normally. If that was representative for longer journeys, I would still get over 200 miles before recharging, which is just fine!
Turning this trailer into a liveable space takes about 3 minutes, which is rather clever: consider, for example, the fact that the van contains a wardrobe, and kitchen units, and that the folding point is lower then the kitchen worktops… Here's how it works.
Sadly, new ones are no longer being built, but some enterprising former employees have got together and have an impressive collection of models available which they buy, recondition, service, resell and so forth. We were both impressed and tempted, but have resisted that temptation… so far.
Here's the thing, though: there's a real opportunity for designs like this in the world of electric cars. These are both light and streamlined, and even the slimline one gives you a lot more living space then some other alternatives like the Eriba Puck, the GoPod or some of the sexy teardrop-shaped options on the market. There's an opportunity for an investor here, I think, to keep a classic alive and to market it as the EV-friendly caravan option for the future.
And lastly…
Combining the themes of boats and electric propulsion, I'm in danger of boring some of my friends by telling them how wonderful I think electric outboard motors are. (I've put lots more on one of my YouTube playlists if you're interested, though.)
But yesterday, my friend Douglas and I sailed our little dinghy down the River Blackwater from the very friendly and welcoming sailing club at Stone St Lawrence and round to Brightlingsea on the River Colne. On the way, we passed the old Radio Caroline ship, which will bring back memories to UK readers of a certain age…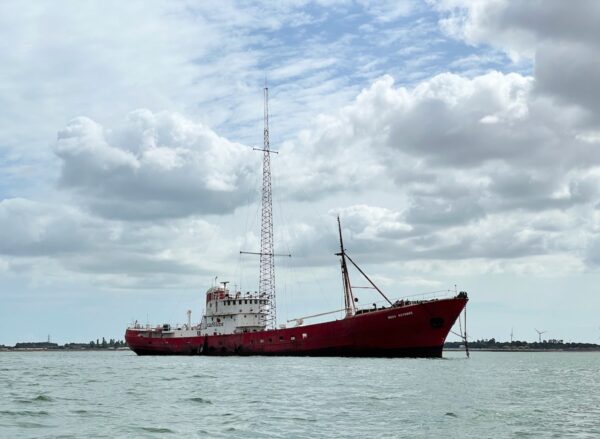 We made it to Brightlingsea, with a little exploration of West Mersea on the way. It's rather fun sailing 12 miles along the edge of the North Sea in a little 12-foot boat. (That's nautical miles, of course, so 13-and-a-bit to you landlubbers.)
The harbourmaster kindly let us tie up on the jetty while we went and got a hot chocolate at a local cafe.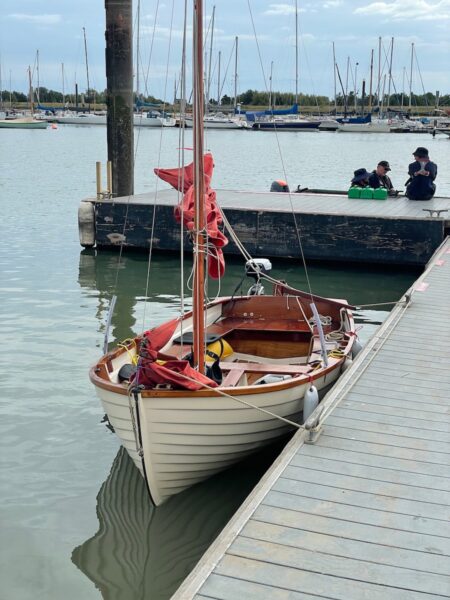 Then we headed back, which we knew would have been rather a slow sail because it was into the wind, so we were planning to use the outboard, and this was made really easy by a new accessory I had just got for it. Details are here for those interested.
In the end the wind almost completely vanished, leaving us cruising silently up a glassy estuary towards the sunset as the evening came on. A very pleasant end to the day.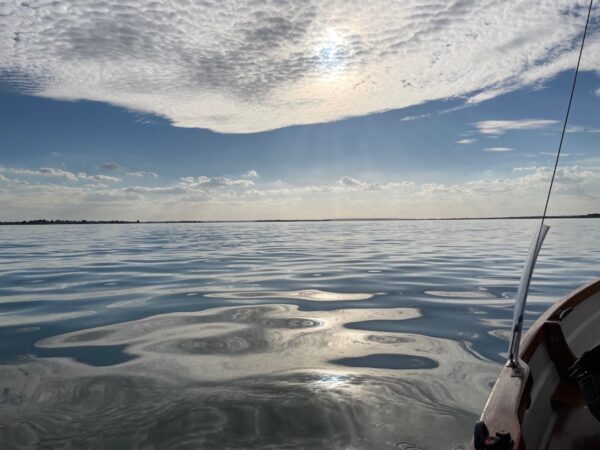 In summary…
It's hard to believe that this has still, in general, been a normal working month involving lots of other things like trips to the vet, a family funeral, speccing out a solar-and-battery system for the house, lots of software development and some important deadlines for important clients. Fortunately, we're going away at the end of next week to recover.