I wrote a couple of months ago about my early experiences of towing with an electric car. A couple of quick updates, now that I've done a bit more towing of my little boat…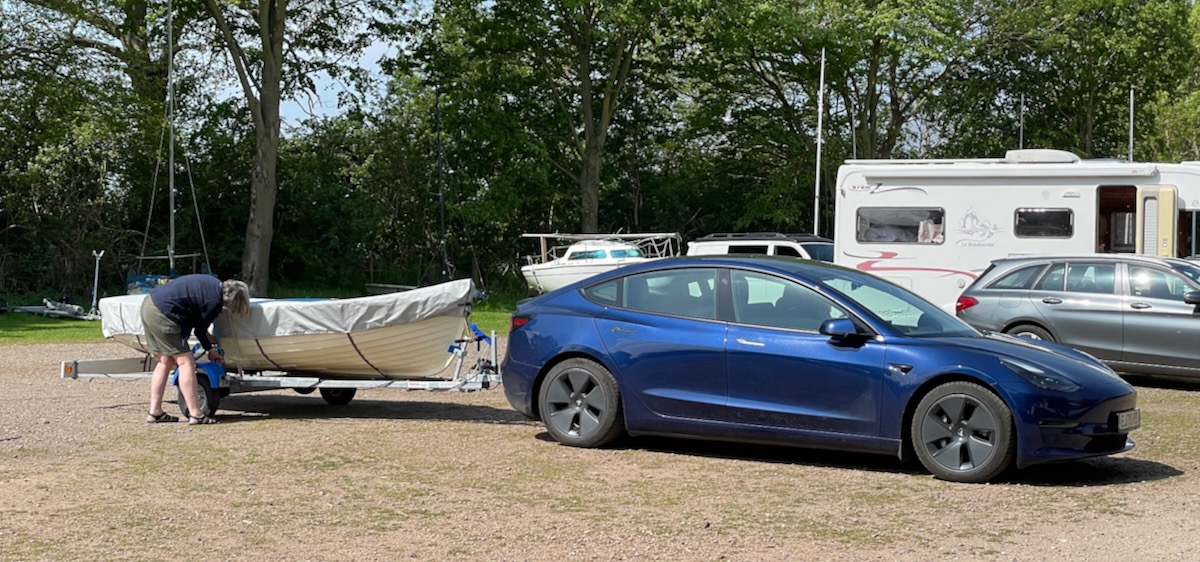 The general towing experience is excellent. The power and smooth acceleration, combined with a fairly heavy towing vehicle, make for a good ride.

Even the car's reversing camera, which I had assumed would prove useless, turns out to be very handy with a small boat: you can check for any wildly flapping straps, reverse with more confidence, make sure you've left enough room going around a corner, and the towing ball itself is visible when trying to position yourself close to the trailer.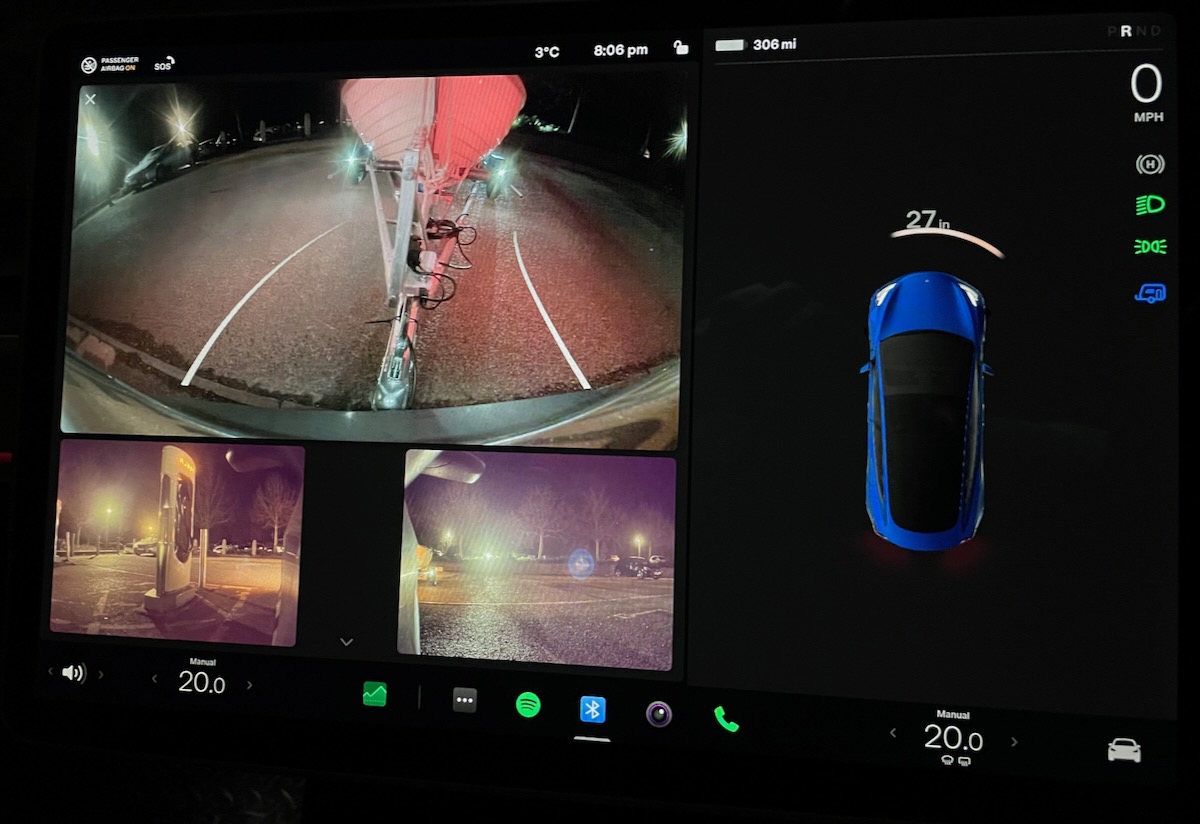 Since purchasing a good cover, and once I remembered that in the UK you're not allowed to tow above 60mph, the aerodynamics aren't too bad and I've been very pleasantly surprised by the efficiency. I tend to average about 320 Wh/mile while towing, which translates to just over 3.1 miles/kWh, or to put it another way, my Tesla Model 3 LR gets a range of over 230 miles. (Since this is at least 4 hours of driving, and more than 3 times the distance my first EV would go when not towing, I'm very happy!)

In addition to my load being fairly light and streamlined, I'm guessing that I benefit significantly from the fact that this is an unbraked trailer. In the UK, any load that weighs more than 750kg is required to have its own brakes: as you slow down and the trailer compresses a spring on the towing hitch, these brakes are applied. If, however, you can get away without needing this on an EV, then the momentum of the trailer is converted back into battery charge by the regenerative braking system of the car as you slow down, rather than being lost as heat. My first experiences of towing with an EV involved a significantly heavier, more ancient, less streamlined and generally much clunkier braked trailer, and the effects on my range were much more dramatic. Your mileage, as the saying goes may vary!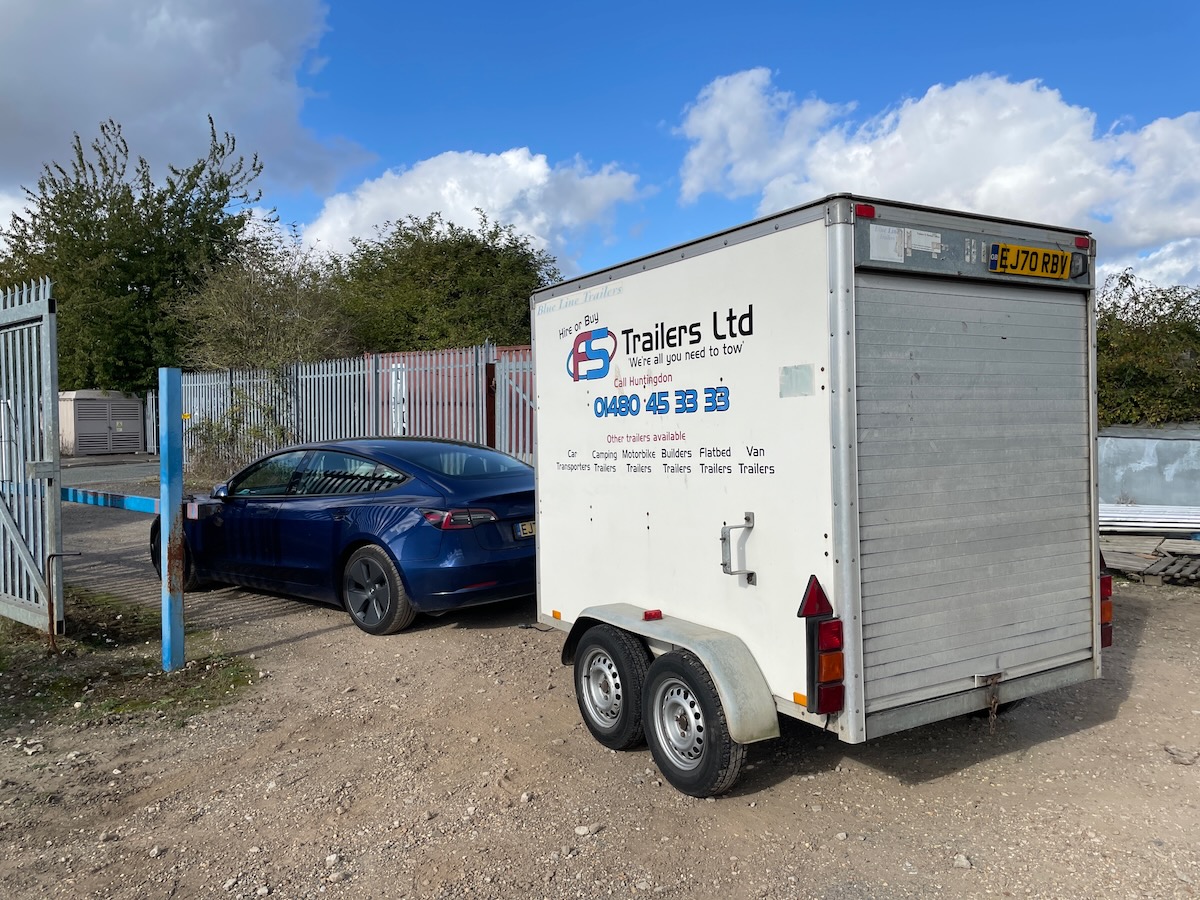 In the future, I imagine, heavier trailers will come with dynamos/motors attached to the wheels, so they can do their own regenerative braking. These might be more basic than would be needed to provide significant motive power while driving at speed, but they could perhaps double up as the remote-controlled motor-movers employed on caravans to allow easy final positioning at your destination once you've disconnected from your car. I sense a real future business opportunity here, by the way. Anyone fancy collaborating on a start-up?
More about charging
Since, given the right charger, my car (and many other modern ones) can charge really very fast, the fact that I have to stop every three or four hours to do so is hardly a major concern!
However, as I've pointed out in the past, the design of most charging stations in the UK is hardly optimised for those who are towing!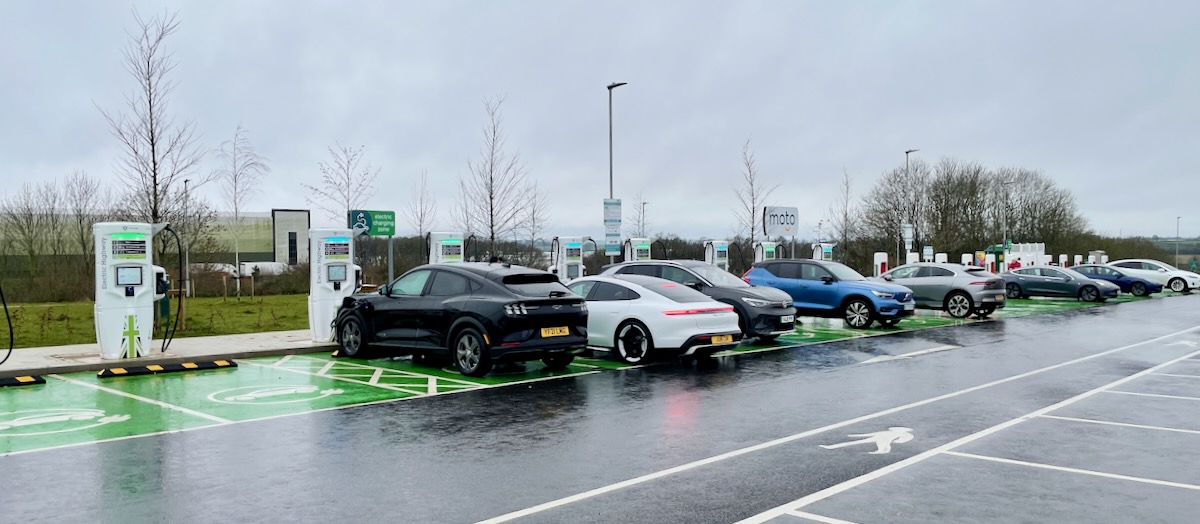 The Gridserve Electric Forecourt at Braintree is one pleasing exception, but in general, EV owners will often need to unhitch their load before charging. This is not a problem for a light trailer like mine with a jockey wheel, but it's another reason those motor-movers might come in handy!
So far, I've only needed to charge away from home three times while towing, and on two of those occasions, I've managed to get away without unhitching, either by visiting remote superchargers at off-peak periods…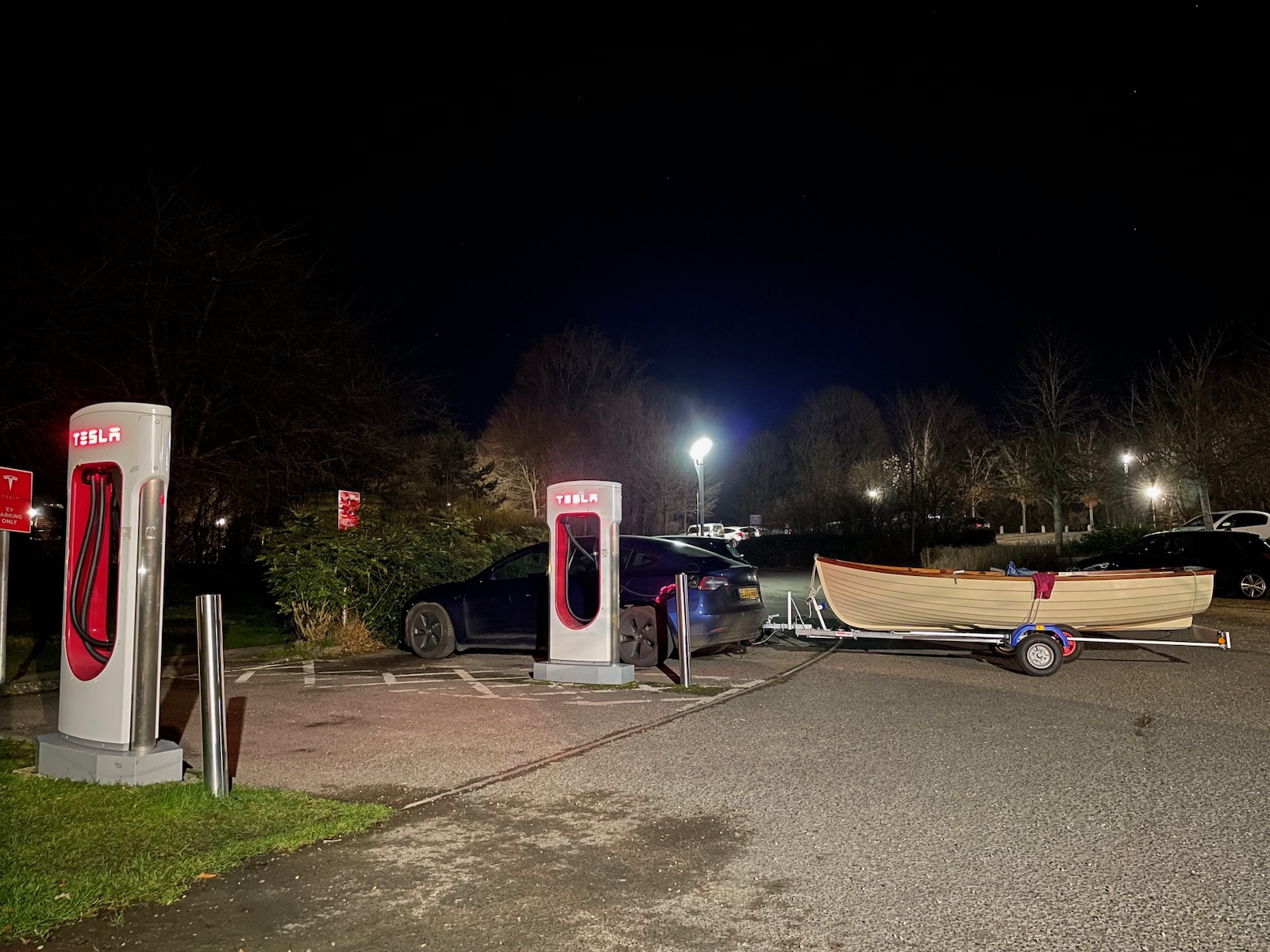 … or by blatantly abusing the facilities when there aren't any other people needing to get to them, as I did on Friday!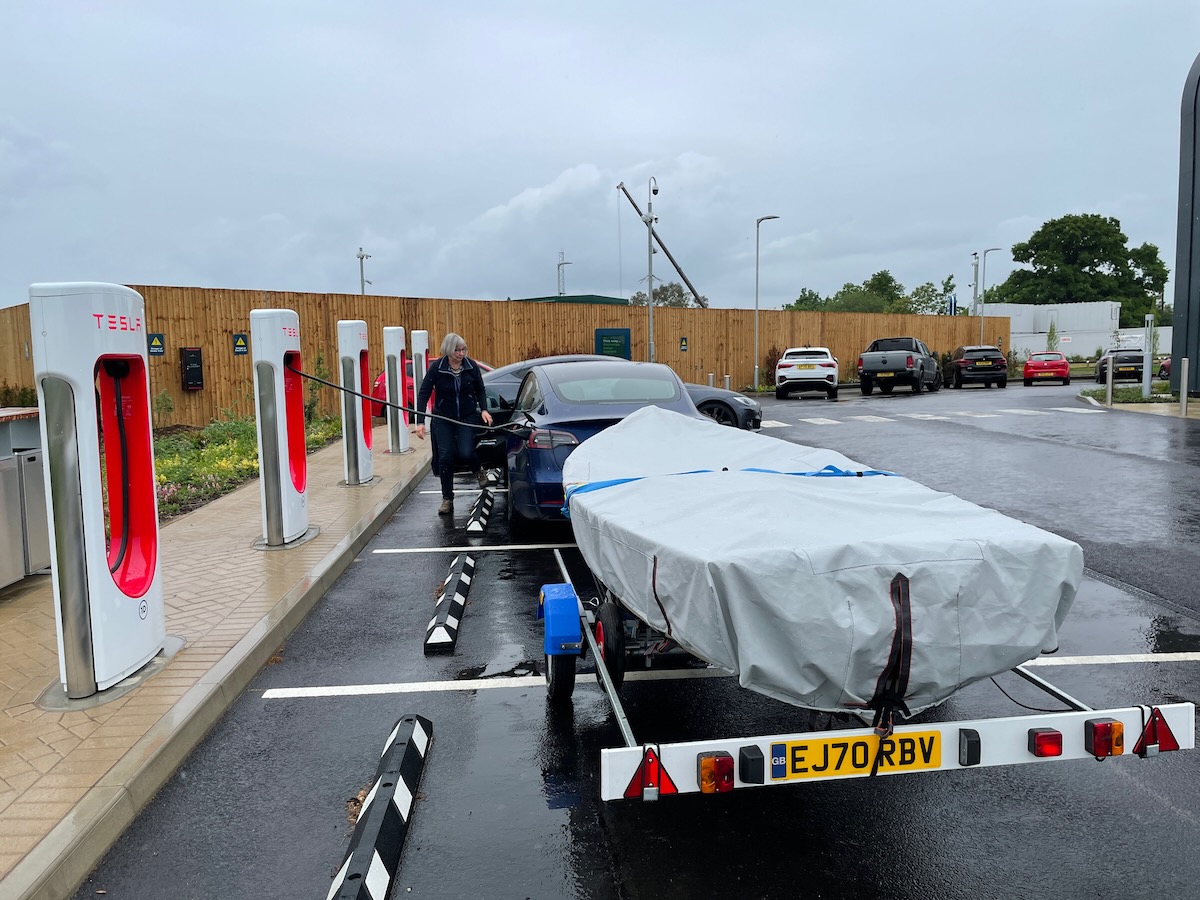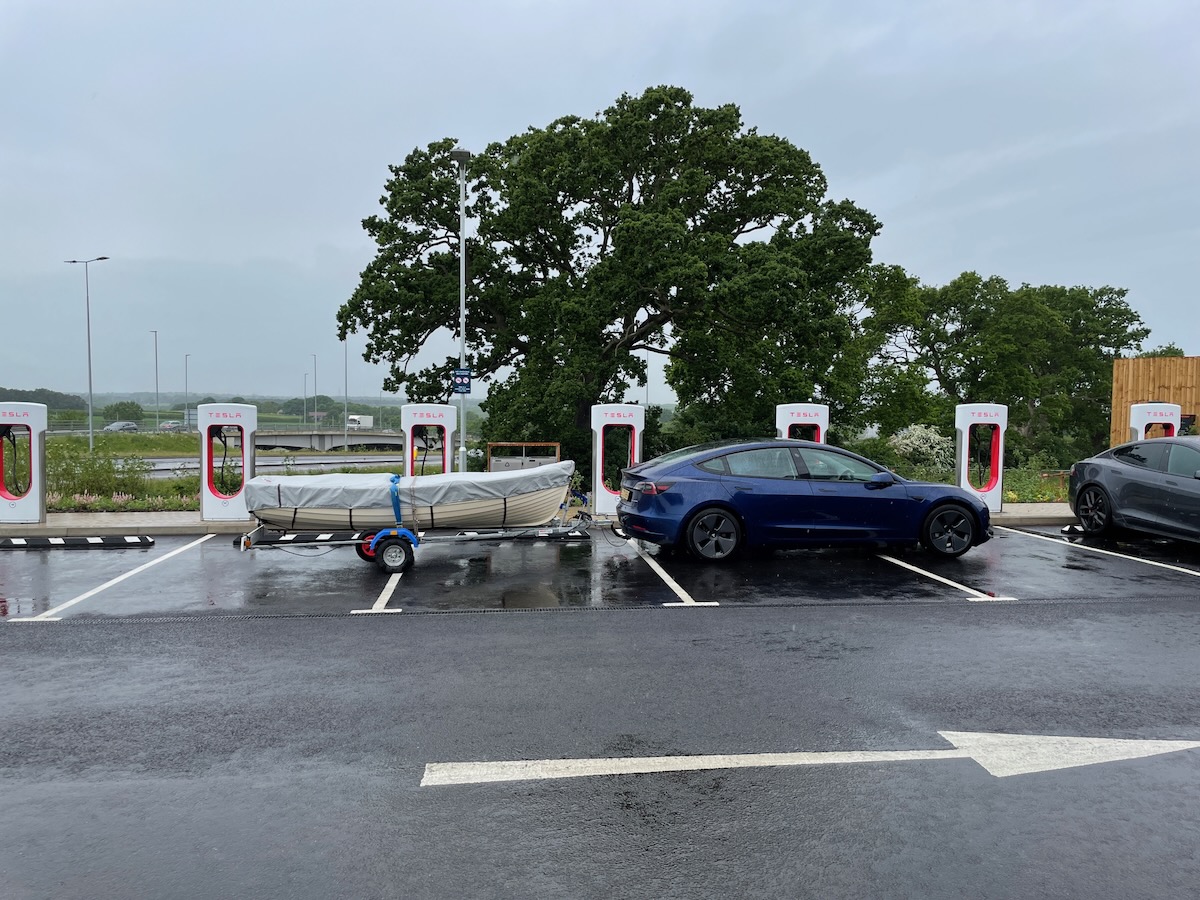 That arrow on the road does indicate how you're meant to park, doesn't it?