Those of us who love the command line can be keen to point out its advantages over pure GUI-based programs. "Imagine you want to rename a hundred files", I have been known to say, "to change photo001.jpg to old_paris_photo001.jpg, etc…"
Now, the truth is that, while it would be a real pain to do this in the Finder, it isn't exactly trivial on the Unix command line either. Which is why I think there's a room for a utility dedicated to renaming, especially when it's free, and as nicely implemented as Renamer4Mac. You drop the files onto the window, choose from a variety of filename modifications, and it shows you what the new names will be – a big advantage. Then you just click the button and you're done.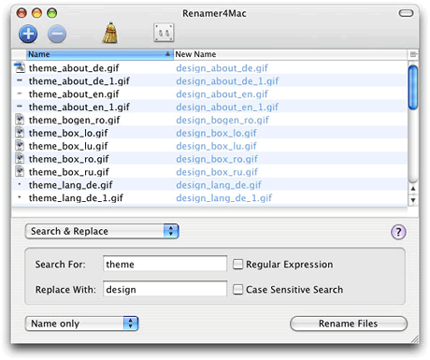 It can also install itself as a contextual menu plugin, so you can select files in the Finder, right-click on them, and choose "Rename with Renamer4Mac…"
Thanks to the MacBreak vidcast for the link.