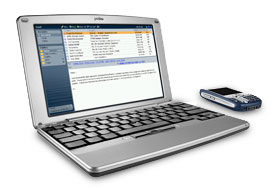 Ah – now, this is really quite interesting. I've been watching and playing with a variety of smartphones and similar devices recently. They're starting to get large amounts of storage, quite reasonable email apps and web browsers, and, with the advent of reasonably widespread 3G and Wifi, decent connectivity. In short, they have most of what I need, most of the time – especially while travelling. The one thing they lack is a decent-sized screen and keyboard, and for some time I've been thinking that something like an Ndiyo terminal, driven by a smartphone, might be the architecture of the future.
Palm have been thinking the same way, and this summer they'll be launching the Foleo.
This may look like a laptop, but actually it's a 'mobile companion', designed to accompany your smartphone on those occasions when you need to type more than a few words or browse the web on something more than a tiny screen. It's not clear yet how the processing tasks are split between the two, but it's an appealing idea.
I think they could be onto a winner here.