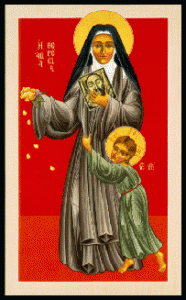 If you don't get to see the sights of Europe during your lifetime, don't worry. If you're really good, people may take you on holiday after you're dead.
A casket containing part of the remains of St Therese of Lisieux is starting a month-long tour of Britain this week. Don't miss the show! Apparently, this ex-nun is something spectacular – and a mere tour of old Blighty will be as nothing to her. Bits of her have even been sent into orbit, and other bits were also taken to Iraq in hope of averting the war.
So it obviously works well, then.
For more exciting nun news, visit St Therese's web site.
Anyway, it reminds me of Blackadder:
Percy: Look: I have here a true relic.
Edmund: What is it?
Percy: A bone of the finger of our Lord. It cost me thirty-one pieces of silver.
Edmund: Good Lord: is it real?
Percy: It is, my lord. You stand amazed, Baldrick.
Baldrick: I am. I thought they only came in boxes of ten. I could have let you have one for a couple of groats. Fingers are very big at the moment.