My friend Mike Flynn has been working for some years on very fast routing algorithms — routing as in maps, that is — and his primary demonstration of this is TimeToAnywhere – a system which can work out how long it takes to drive from one location to everywhere else on the map.
So you can say, for example, "There's been an accident here. Which ambulances could reach it in less than 15 mins?" Or, "I work in Dry Drayton. Where could I live, and still have less than a half-hour commute?"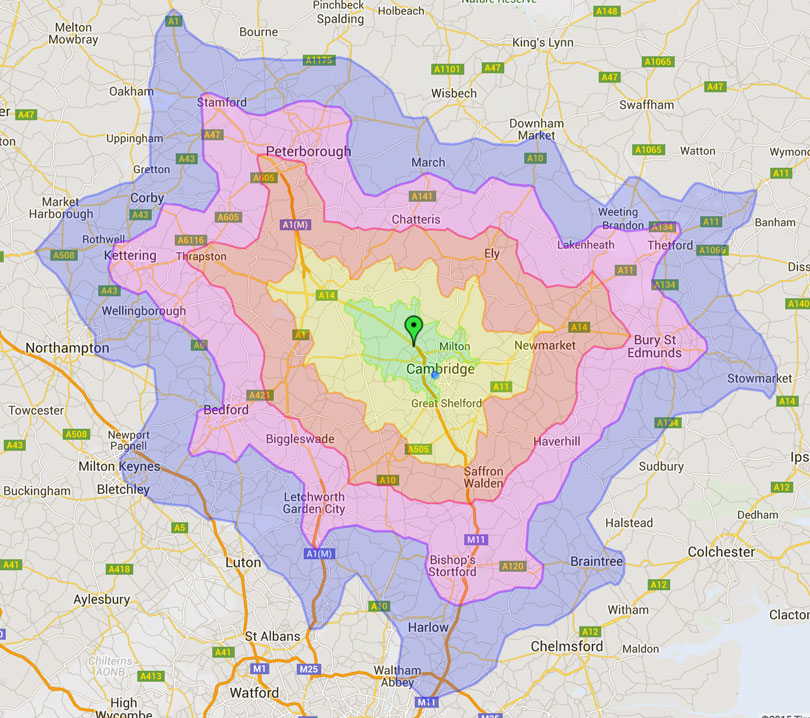 Each coloured boundary represents 10 minutes' driving.
This is pretty, but those of you with a computing background may also realise that, using most of the standard algorithms, this is also a very time-consuming problem when you try do it across this number of points. Mike, however, measures the time taken by his system in microseconds.
He's recently set up a demo server which, if it doesn't get too swamped, is fun to play with to get a feel for the speed! You can find it at TimeToAnywhere.com, and if you want to know how to get the most out of it, watch Mike's short video.