To live in the modern world, you need to understand social networks. That's not the same as using them; you can understand them without using or wanting to use them, and you can quite happily use them without actually understanding how they work at all. In fact, I would suggest, most people do, and that ignorance is amongst the bigger problems facing the world today.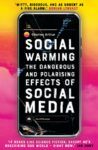 Fortunately, we have a good antidote to it, in Charles Arthur's latest book "Social Warming: The dangerous and polarising effects of social media". I think it is superb.
Arthur is a highly-respected writer and journalist of long standing, but it's still quite an achievement to produce a book which is nicely written and enjoyable to read, yet simultaneously extremely serious and important.
The title draws an analogy with global warming: there's no one single massive event that causes climate change: it's the result of millions of small actions and interactions taking place all over the planet for an extended period. And the mechanisms which drive social networks, which make them tick, also seem mostly harmless at the level of individual interactions, but they too accumulate to have enormous impact. We remain in ignorance of them at our peril… until perhaps one day we'll find things have gone too far.
The dramatic cover might lead you to think this is going to be a shocker: a breathtaking exposé of corporate evils, which you can only escape by banning Facebook from your life forever. In fact, however, it is a rational explanation of the algorithms social networks have found to be effective in driving ever-greater engagement of the audience (and hence ever-greater revenues for their shareholders). And it's a journey through numerous examples of the impact these mechanisms have actually had in key situations in different parts of the world.
The phrase "required reading" is a somewhat clichéd one, and I don't think I've ever used it before, but I think it may be appropriate here. Perhaps, though, I should moderate it a bit. This book should be considered required reading if you post to social networks, read social networks, have any close friends or family who use social networks, read papers or watch media where the journalists get information from social networks, meet people whose approach to global pandemics depends on what they read on social networks, live in a country where voting is heavily influenced by social networks, or have kids growing up in a world dominated by social networks.
The rest of you don't need to read it.
---
'Social Warming' can be purchased from Amazon and many other sources, with hardback, Kindle and audiobook versions available now, and paperback to follow in the spring.