Your Status-Q quote for the day comes from Norman Lewis's eTel talk:
The search for acknowledgement is the key to most online activity.
Yesterday I signed up for a Twitter account, to see what all the fuss was about. I was more interested in it as a social phenomenon than because I actually wanted to use it. Which probably indicates that I'm getting old.
For those who don't know it, Twitter is all the rage amongst the youth of today. You can type out a few words saying what you're currently doing, and anyone interested in watching can keep up to date with your exciting life. Twitter is to instant messaging what blogging is to email; it's chiefly a broadcasting mechanism rather than a conversation. This is very convenient for the youth of today, who would otherwise need to send the same updates to their 15 simultaneous IM conversations.
You can send Twitter updates using your mobile, via the web, using an IM client, or a dedicated application, and you can keep track of your friends in a variety of ways including via RSS.
To clarify things, here's the 'History of blogging':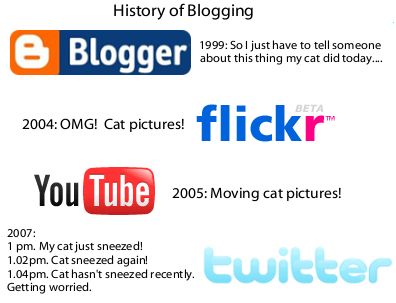 (Many thanks to Dave Briggs, who found this on Mashable.)